About Triple Creek Realty of Bozeman
Our History
Founded in Big Sky in 1974, Triple Creek Realty has been a consistent leader in buyer and seller representation in all manner of transactions for more than 3 decades.

In 2005, we brought our quality brand of representation to Bozeman. We take pride in offering a unique and time-tested approach to real estate transactions which has earned us a loyal client base and consistently impresses new clients.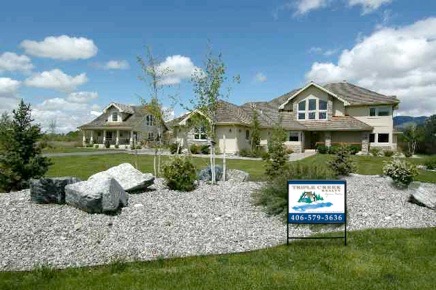 About Us
We don't claim to be the brokerage for every client, but if you are motivated to buy or sell real property in a timely manner, we can provide the market intelligence, transaction experience, and unfailing persistence to achieve a mutually beneficial transaction.

We are serious about our fiduciary duty--our counsel is shaped by a careful understanding of your real estate needs and financial capabilities.

When you choose Triple Creek, you work with experienced agents. We require new agents to participate in a minimum of 500 hours of directly supervised education and at least 20 transactions. This education is well beyond the state-mandated training and continuing education requirements.

Each of our agents has detailed market knowledge of every property we represent and an accurate understanding of current inventory trends in our market. This makes it possible for us to provide competent negotiation and closing for even the most challenging transactions.

We work in a true team environment. All agents of TCR of Bozeman participate in and are compensated for every transaction. This approach motivates each agent, encourages collaboration, and provides access to the extensive personal marketing networks of each agent to every client who chooses to work with us.

When you list or buy with TCR of Bozeman, you engage the whole agency, not an individual agent.
To "Find Out" if you are the right client for us, consider these questions:
Do you want to work with highly-trained, experienced agents?
Do you need agents who have "know how" not just "know who"?
Do you require thoughtful real estate consultation?
Do you require a working understanding of market value and current market conditions?
Do you need relentless property finders?
Do you want the advantage of formally trained negotiators?
Do you need access to qualified inspectors, surveyors, contractors, and remediators?
Do you require agents who can "think outside the box"?
Are you tired of "sit and wait" real estate?
Do you require marketing ability outside Montana?
Do you have a complicated real estate problem that needs to be solved promptly?

If you answered "yes" to several of the questions above, we might be the right real estate brokerage for you--give us a call at (406) 522-8314 and dial 2 to speak with an agent.